---
---
Inspire 2 with the Zenmuse X5S
Forwards, downward and upwards collision avoidance sensors
New ground breaking smart flight modes - Spotlight Pro, Active track and Tap fly
New transmission system for greater in flight reliability
Upgraded flight time up to 27 minutes
Double batteries sensor modules for greater in flight redundancy
CineCore 2.0 can record up to 5.2K video
Top speed of up to 67mph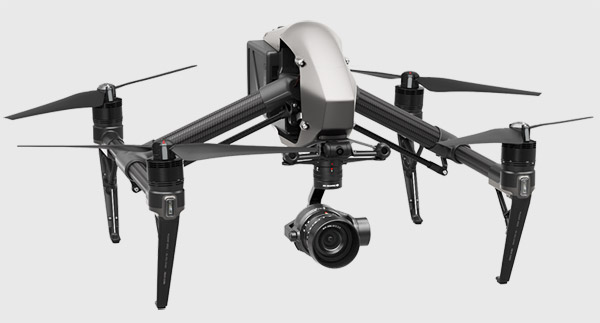 PROFESSIONAL PHOTOS AND VIDEOS
Take video and image capture to a whole new level with the incredible DJI Inspire 2. With the brand new CineCore 2.0 imaging processing system, the Inspire 2 is capable of recording 5.2K videos in formats such as CinemaDNG, Apple ProRes and more. Built into the aircraft nose, this system works with the new X4S and X5S cameras through the dedicated gimbal port.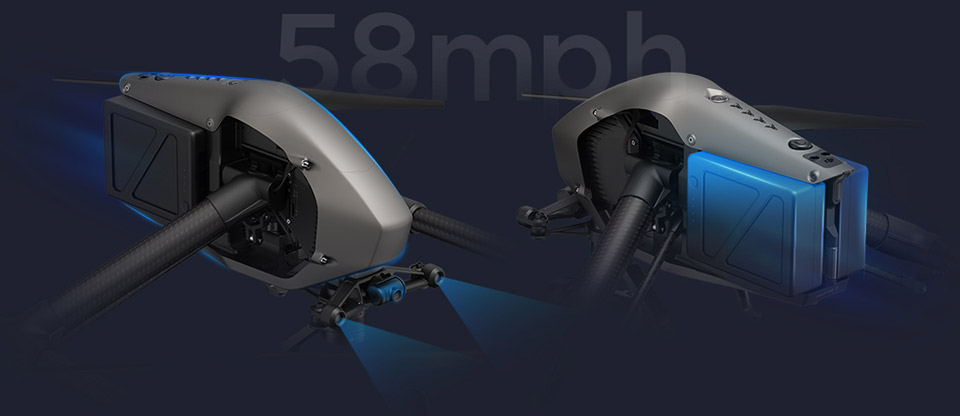 KNOWS THE SURROUNDINGS
There is a lot less to worry about with the DJI Inspire 2, so producing incredible shots and results is much more simple.
The Inspire 2 observes its surroundings in real time, detecting obstacles to avoid so you can concentrate on the task at hand. Detecting obstacles up to 30 metres ahead at speeds up to 34mph and at a controllable angle of 25°, your flight is protected against any sudden collisions.
Flying in enclosed spaces is easier thanks to the upward facing infrared sensors and their ability to detect obstacles 5m above.
POWERFUL, EXTENDED FLYING
The Inspire 2's new propulsion system has been optimised for power, creating a new level of flight performance.
With a top speed of 58mph, the Inspire 2 goes from 0 to 50mph in as little as four seconds and with a descent speed of 9m/s and climbing at 6m/s, you can take off and get to work in next to no time. A maximum altitude of 40° and sensitive controls help to make those delicate manoeuvres easier.
Carrying two batteries, and even with all of this power, the Inspire 2 has an astonishing flight time of 27 minutes.

EASY TRACKING
Smart flying modes mean even solo pilots can produce amazing and dramatic results. The powerful Spotlight Pro tracking mode uses advanced visual tracking algorithms to lock onto a subject during the flight. Whichever direction you choose, the camera will remain locked and focussed on the subject, allowing for dramatic angles and movement. This is something that would have relied on a separate camera operator in the past.
With Active Track and Tap Fly modes, capturing great video results is made even easier.
The Inspire 2 offers intuitive and responsive features to help you capture consistently smooth video. If the gimbal reaches its rotation limits, the whole drone will rotate without affecting the shot, so the gimbal can freely move again.
CONSISTENT VIDEO TRANSMISSION
DJI's new Lightbridge technology offers a transmission distance of over four miles with the capability of delivering up to 1080p video and the FPV view to the pilot and camera operator. Switch between 2.4GHz and 5.8GHz control frequencies for greater signal stability.
The Inspire 2 also offers the ability to broadcast live using the dedicated 1080i50 and 720p60 transmissions signals. Simply connect the controller to a broadcast truck for incredible live results.
ENHANCED RELIABILITY
An intelligent flight control system monitors and compares readings delivered by the integrated dual IMU and dual barometer, giving you accurate flight data.
The dual batteries mean that, should there be a fault with one of the batteries, the other can take over, providing enough power for a safe landing.
Thousands of hours of testing have ensured an enhanced flight reliability, helping you to fly smoothly and achieve great results every time.
Features
Inspire 2 with the Zenmuse X5S
Forwards, downward and upwards collision avoidance sensors
New ground breaking smart flight modes - Spotlight Pro, Active track and Tap fly
New transmission system for greater in flight reliability
Upgraded flight time up to 27 minutes
Double batteries & sensor modules for greater in flight redundancy
CineCore 2.0 can record up to 5.2K video
Top speed of up to 67mph
What's in the Box?
1 x Inspire 2 Drone
1 x Zenmuse X5S
1 x Remote Controller
4 x Propeller Pairs
2 x TB50 Batteries
1 x Battery Charger
1 x Charging Hub
1 x Power Cable
1 x USB Cable (Double A Ports)
1 x 16GB MicroSD Card
1 x Carrying Case
3 x Gimbal Damper
1 x Propeller Mounting Plates
1 x Vision System Calibration Plate
---